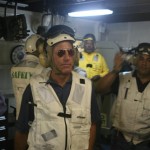 Both Richard Roffman and Frank Armstrong, of the Rich Roffman Show, were invited by SouthCom to partake in the Outreach project for the United States Southern Command Headquarters (SouthCom) including the landing, inspection and flying off of the nuclear super carrier, USS George Washington on April 9th, 2008.
This project tries to provide excellent "hands-on" experience for community leaders throughout the United States allowing the participants to fully understand the success and commitment of our young men and women who have volunteered to be part of the military arm of the United States. Furthermore, it provides one on one discussion with the officers and crew of the ships involved giving a clear picture of the mission of the ship, crew and the Navy.
This understanding is important as we move into the 21st century as the challenges facing our nation have changed in terms of national security, global image building and coordination with other nations and their military services. Succinctly, it's "hard power" versus "soft power".
Project Outreach directly addresses these concerns and brings to light the efforts our Navy is making in relation to these worldwide challenges.
While on the day trip, we were fortunate to meet Rear Admiral Philip H. Cullom, Commander, Carrier Strike Group EIGHT as well as Captain David C. Dykoff, Commanding Officer, USS George Washington. These men greeted our group and fully explained the nature of their multi-layered missions both domestically and globally.
The USS George Washington is the sixth ship in the Nimitz class of nuclear-powered super carriers, and the fourth United States Navy ship to be named after George Washington. Her contract was awarded on December 27, 1982 and she was built by Newport News Shipbuilding. The keel was laid on 25 August 1986, she was christened July 21, 1990 by then-First Lady Barbara Bush, and was commissioned 4 July 1992.
The USS George Washington is embarking to Japan where it will be home ported for the next few years.
If interested the official website for the ship is www.gw.ffc.navy.mil
Our Mission: Wednesday, April 9
8:00am Depart SOUTHCOM HQ's En route Homestead Air Base
9:15am Depart Homestead AB
10:30am Arrive NAS JAX
10:45am Depart NAS JAX (COD)
11:30am Arrive USSGW
11:45am Tour/Flight Operations
3:45pm Depart GW
4:45pm Arrive NAS JAX
5:00pm Depart NAS JAX
6:00pm Arrive Homestead
6:30pm Arrive SOUTHCOM HQ's
Our host for this mission was:
POC: Mario Alvarez
Chief, Outreach
US Southern Command Headquarters
3511 NW 91st Ave.
Miami, FL 33172
mario.alvarez@hq.southcom.mil
Our fellow members on this mission included:
Frank Armstrong, Investor Solutions
Larry Brill; Brill, Rodriguez, Salas CE
Patricia Dumont, Vice Chair, National Navy League (it is the professional association of and for the Navy and lobbying group for the US Navy much like AUSA is for the Army).
Alex Formoso, DA Builders
Luis Garcia, Image Graphics & Printing
Raul MasCanosa, Dir of Marketing, International Consilium
Alfredo Mesa, VP, Dutko Worldwide
Richard Roffman, The Rich Roffman Show (1360 WKAT)
Karol Rosa- Univision
Carlos Sardinas, Keys Ship Shapes
Dr. David Schmitt, Kinder Medical Group/Mercy HospitalFrom SouthCom:Mario AlvarezEduardo Villavicencio