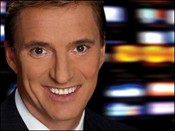 Meteorologist Craig Setzer came to CBS4 in January, 2000 from WFLA in Tampa. He currently presents weathercasts on My33 News at 10:00 and occasionally on CBS4 News during the week.
Setzer attended the University of Oklahoma where he learned the fine art of tornado chasing. You may have seen many of his adventures on "World News Tonight," "Good Morning America," "Day and Date," "Inside Edition," "American Journal" and The Weather Channel. His 17 years of broadcast meteorological experience also includes KRDO-TV, an ABC affiliate in Colorado Springs, Colorado and NBC affiliate KSDK-TV in St. Louis.
When he's not chasing storms Setzer is most likely racing sailboats on south Florida waters. Trips on his 35 foot sailboat have taken him to the Keys and Abacos. Setzer also provides hurricane information for sailors in the Atlantic, has a HAM radio license, knows sign language, and frequently speaks to groups about hurricanes and tornadoes.
Setzer holds a seal of approval from the American Meteorological Society (AMS) and he's a member of the National Weather Association.